The Wild Princess: A Novel of Queen Victoria's Daughters by Mary Hart Perry


"She knew all about love—that beautiful, exquisitely painful but precious journey."

Publisher: William Morrow & Company (Harper Collins)
Publishing Date: July 31, 2012

Series: Novels of Queen Victoria's Daughters #1
Received: Free ebook as part of blog tour
Others by this Author: None


Amazon Synopsis: Four of the five daughters of England's Queen Victoria and Prince Albert were regal, genteel, and everything a princess should be.
But one was rebellious, scandalous, and untamed.
This is her story. . . .
To the court and subjects of Queen Victoria, young Princess Louise—later the Duchess of Argyll—was the "Wild One." Proud and impetuous, she fought the constraints placed on her and her brothers and sisters, dreamed of becoming an artist, and broke with a three-hundred-year-old tradition by marrying outside of the privileged circle of European royals. Some said she wed for love. Others whispered of a scandal covered up by the Crown. It will take a handsome American, recruited by the queen's elite Secret Service, to discover the truth. But even as Stephen Byrne—code name the Raven—vows to risk his life to protect the royal family from violent Irish radicals, he tempts Louise with a forbidden love that could prove just as dangerous.
In the vein of Philippa Gregory, Mary Hart Perry tells the riveting story of an extraordinary woman—a princess who refused to give up on her dreams, including her right to true love.
1/2

Let me just say that The Wild Princess was one of those books that's really hard to rate - it's not amazing enough to earn that elusive 5 stars but it really doesn't have any negative points to fall back into the 4 star trap, know what I mean? Overall, I'd say The Wild Princess is a wonderfully entertaining quick read and I definitely recommend it to every reader out there!

The novel is a fairly slow-paced one, but it makes sense since much of it is romance. The pace speeds up as needed though; some parts (especially the end) are quick and really fun to read. Princess Louise has had some indiscretions as a young girl which now makes her ineligible for a high marriage like her sisters. She is married to a Lorne who turns out to be gay and has married her only to protect himself from the wrath of people who think men like him should be tortured and executed. Louise is crestfallen - she had been looking forward to having children with a loving husband, nevertheless, she agrees to keep his secret. Starved for affection, she meets the handsome, dangerous-looking secret agent the Queen has just employed from America and the story begins. There are two main plots at once - the romance between her and Stephen, as well as the numerous attacks being made on the Queen's family to get Ireland's independence. There is one very unexpected twist in the story that you just have to read and enjoy!

The superb characterization is what really drives this novel. Even the minor characters are given 3 dimensions - they each have their own personalities and understandable motivations for their actions, whether good or bad. Louise is everything you could want in a historical fiction protagonist - beautiful, headstrong, flawed - a rebel against the system. Following the legend of Princess Louise's wild nature and the rumors of the circumstances around her marriage, Mary Hart Perry created this amazing character haunted by her past and stifled by the constraints of being royalty. Her romantic interest, Stephen Byrne is super hot but also very intelligent and caring - so awesome! Lorne seemed to be the only one-dimensional character - every time he's mentioned, he talks about his fear of going to prison and so warns Louise off other men. Come on!

The story is told through alternating POVs, most often from Louise and Stephen's point of view. The author really used that to her advantage to fully elaborate on their feelings for each other when they're together and show what's happening with each while they're apart. The vivid descriptions let you easily get lost in whatever's happening - tension between Stephen and Louise, fights, or just another day at Louise's women's store. Hard to believe this is Mary Hart Perry's debut novel, it's just so good!

Since this is historical fiction, a review would be incomplete without describing the setting and customs of the time. Princess Louise's personality is so unique at that time because she refuses conform to society's rules. She isn't necessarily as wild as...curious. And determined. Most females were not spoken of in such terms during that period and that is what intrigued Stephen about her because he was an outsider too. He was American and he refused to wear a gentleman's clothes or act gentlemanly since that wasn't who he was.
Wow, I'm rambling aren't I? This book just brings that out in me. Another reason why you should read this book!



Extra Thoughts that don't Deserve a Separate Category:

The Wild Princess is an engaging, quick read that has a strong main character and an imaginative plot. It is based very loosely on the rumors of the real Louise's marriage and childhood indiscretions, but overall it's a fictional account as the author herself points out. The historical aspects combined with the mystery, romance and suspense Perry has created makes for a very entertaining read. It reminded me a lot of Their Eyes Were Watching God because it is about a woman way ahead of time, looking for love who finds three men, the third of whom is absolutely perfect for her. This is the first of a planned series of 5 books each involving one of 5 daughters Queen Victoria had. The second will be called The Bashful Princess and will be about Louise's younger sister, Beatrice.

Here is Perry says about her next novel (which I am already excited about):
For more royal intrigue and Victorian romance, look for Princess Louise and Stephen Byrne when they return for guest roles in The Bashful Princess, by Mary Hart Perry, the next novel in the "Novels of Queen Victoria's Daughters" series. Youngest of all of Victoria's children, Beatrice is destined to remain forever her mother's companion in her declining years, and if the queen gets her way, Bea will remain "pure" and never marry. But attending a royal wedding on the Continent exposes shy Beatrice to temptation in the form of not one but two charming suitors—Prince Henry of Battenberg (one of four famously handsome brothers) and a charismatic Highlander who claims to be the nephew of the recently deceased John Brown, favorite of the queen. Will Beatrice remain meekly loyal to her mother, or fall in love and into a political trap meant to draw England into war?

KIDNAPS AND KISSES, I say.

Have you read The Wild Princess? Take my quiz now!


Goodreads Quiz

The Wild Princess quiz

taken 1 time

5 questions


Visit Mary Hart Perry at her website or follow her on Twitter.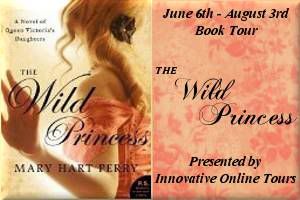 As part of the Wild Princess' (Harper Collins) blog tour, I get to give away a print ARC of the fabulous novel. Gigantic hurray! Use Mr Rafflecopter below :)
a Rafflecopter giveaway